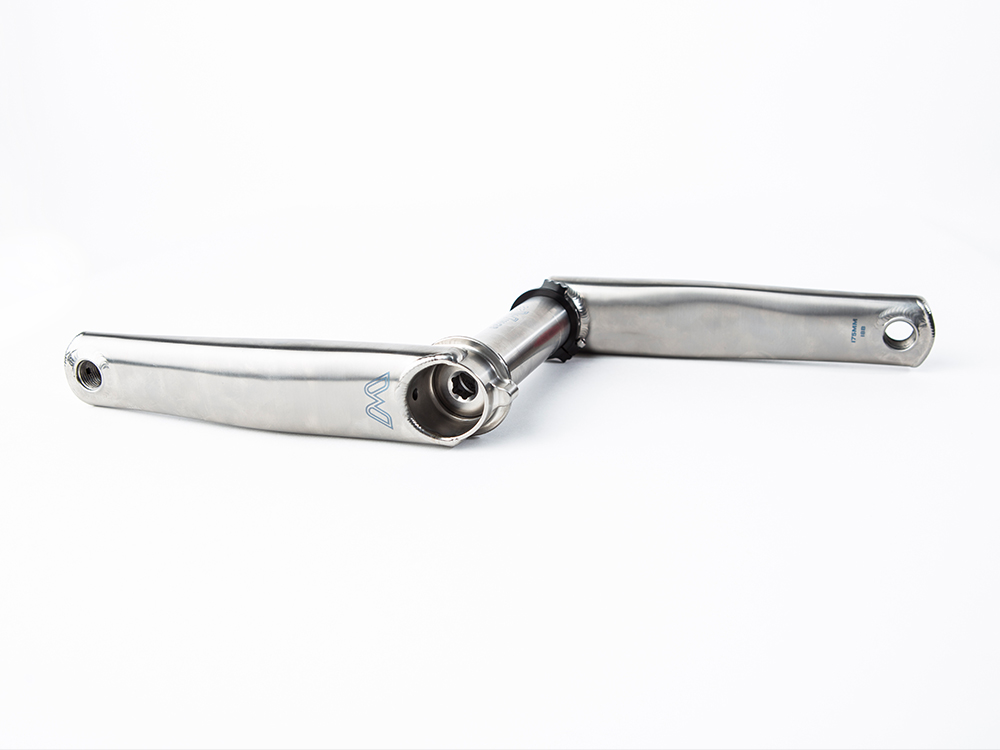 ee Wings Mountain
Take flight with the eeWings from Cane Creek. These titanium cranks are designed to keep up with the rigorous demands of the most aggressive trail and enduro mountain bikers – though they will benefit any rider who puts a premium on durability, stiffness and weight.
The eeWings and the included CNC aluminum bottom bracket preloader are the ultimate in stiffness and durability while only weighing a mere 400 grams – in the same weight range as premium carbon cranks but 20% to 30% stiffer. In fact, we have such confidence in the eeWings' quality and dependability that we are backing the cranks with a 30-day 100% satisfaction guarantee and a 10-year limited warranty.
The Cane Creek eeWings MTB will include the following:
Cane Creek eeWings MTB:

Cane Creek eeWings MTB Boxed.

Please contact us separately for installation and overseas shipping at WA: +65 9090 8000 or EMAIL: sales_sq@hupleong.com
Specifications:
Warranty Information:
Warranty Information LIMITED TEN (10) YEAR WARRANTY ON CANE CREEK eeWings
Subject to the limitations, terms and conditions here of, Cane Creek warrants, to the original retail owner of each new Cane Creek eeWings, that the Cane Creek eeWings, when new, is free from defects in materials and workmanship. This warranty expires ten (10) years from the date of the original Cane Creek eeWings retail purchase from an authorized Cane Creek dealer or from a Cane Creek authorized original equipment manufacturer where Cane Creek eeWings is included as original equipment on a purchased bike, unless otherwise dictated by requirement of law.
TERMS OF WARRANTY
This warranty is conditioned on the Cane Creek eeWings being operated under normal conditions and properly maintained as specified by Cane Creek. This warranty is only applicable to Cane Creek eeWings purchased new from an authorized Cane Creek source and is made only to the original retail owner of the new Cane Creek eeWings and is not transferable to subsequent owners. This warranty is void if the Cane Creek eeWings is subjected to abuse, neglect, improper or unauthorized repair, improper or unauthorized service or maintenance, alteration, modification, accident or other abnormal, excessive, or improper use. Should it be determined, by Cane Creek in its sole and final discretion, that a Cane Creek eeWings is covered by this warranty, it will be repaired or replaced, by a comparable model, at Cane Creek's sole option, which will be conclusive and binding. THIS IS THE EXCLUSIVE REMEDY UNDER THIS WARRANTY. ANY AND ALL OTHER REMEDIES AND DAMAGES THAT MAY OTHERWISE BE APPLICABLE ARE EXCLUDED, INCLUDING, BUT NOT LIMITED TO, INCIDENTAL OR CONSEQUENTIAL DAMAGES OR PUNITIVE DAMAGES. This limited warranty does not apply to normal wear and tear, malfunctions or failures that result from abuse, improper assembly, neglect, alteration, improper maintenance, crash, misuse or collision. This limited warranty gives the consumer specific legal rights. The consumer may also have other legal rights which vary from state to state or country to country. Some states and countries do not allow the exclusion or limitation of incidental or consequential damages or warranties, so the above limitations or exclusions may not apply to you. If it is determined by a court of competent jurisdiction that a certain provision of this limited warranty does not apply, such determination shall not affect any other provision of this limited warranty and all other provisions shall remain in effect.
THIS IS THE ONLY WARRANTY MADE BY CANE CREEK ON ITS PRODUCTS AND COMPONENTS, AND THERE ARE NO WARRANTIES THAT EXTEND BEYOND THE DESCRIPTION HEREIN. ANY WARRANTIES THAT MAY OTHERWISE BE IMPLIED BY LAW INCLUDING, BUT NOT LIMITED TO, ANY IMPLIED WARRANTY OF MERCHANTABILITY OR FITNESS FOR A PARTICULAR PURPOSE ARE EXCLUDED.
You Might Also Like!